Embedded Payments and what they're all about
Do you remember your first Uber ride?
It was probably a surprising but enjoyable experience. When you arrived at your destination and left the car, that was it; you didn't have to do any other transaction; you didn't have to pay in cash or pull out your card because the payment was already settled in the app.
This seamless transaction experience, enabled by financial technology known as embedded payments, is a significant competitive advantage for many companies.
Let's look at what embedded payments are, who is using this technology and how everyone can participate in this revolution. ‍
What are embedded payments?
Embedded payments allow non-financial companies to accept payments natively within their product instead of using a separate point-of-sale tool. Customers no longer have to look for cash or enter their card details for each purchase; their payment details are saved once and continuously reused by simply tapping a few buttons on their smartphone.
You may have also heard 'invisible payments,' promising to make paying faster and more accessible and turning it into a reliable background process that enables innovation further along the value chain.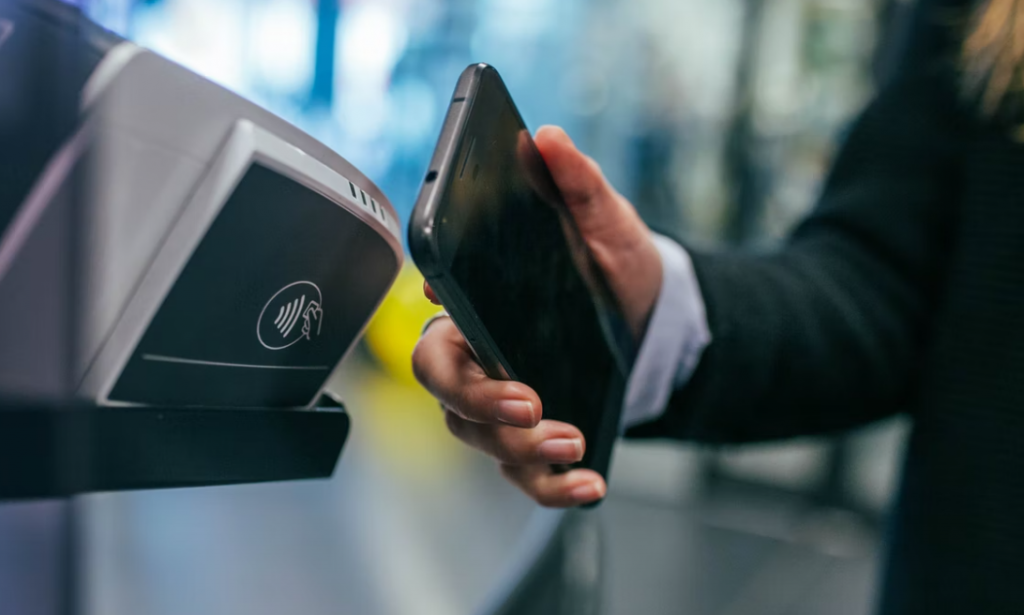 Do people understand 'embedded' payments?
How important are the embedded payments for the customer of today?
Do people understand when they are performing an embedded transaction in their preferred mobile app?
Today's consumers enjoy universal internet connectivity and have set expectations for customer experience. They want nothing less than seamless digital experiences, whether they're ordering shoes online, picking their favorite show to stream, or purchasing a new SaaS tool for their company.
Simultaneously, more B2B companies are adopting a subscription-based business model to offer their services. Using embedded payments to collect payment and billing data may help companies understand customer behavior better, build deeper relationships with users and contribute to more extended partnerships.
Last, consumers who weren't used to online shopping have started to shift to buying online amid months-long lockdowns. As they and other shoppers started enjoying the convenience of one-click orders and fast deliveries, their expectations changed accordingly; many are now less forgiving of any frictions in the payment process. For instance, almost a quarter of people abandon an online shopping cart if they have to create an account and 18% of shoppers leave the site because of a lengthy checkout process.
Based on recent research from PaySafe on 11,000 consumers, there is a strong correlation between the benefits embedded payments offer and consumers' desire for convenience at the checkout.
Some people stated that their payment habits have permanently changed since the COVID-19 pandemic, 24% of consumers are using digital wallets more frequently now than a year ago when paying for online purchases, and 17% are using mobile wallets more often.
33% of respondents globally reported having paid for something via a digital wallet last month.
Solutions, which do not require card details for the payment to go through, meet the needs of consumers who don't feel comfortable entering financial data online. They also address those who feel more comfortable using a payment method that doesn't require them to share financial details with online merchants.
Explore how PayByBank works without using card payment details and how it helps merchants to save money and time among refunds
Are you ready to be part of the evolution of PayByBank?
Fill in your email below to be among the first to know the future of payment services.
The future of financial services
Security and trust emerged as two areas that merchants need to address.
44% of consumers said that security is the most critical factor when choosing how to pay for an online purchase; however, only 27% imagine that embedded payments are more secure than traditional payments, while 3 in 5 of those who have heard of embedded payments worry they could be charged the wrong amount when using them.
It comes as no surprise that the adoption of embedded payments is accelerating. And although deploying this technology was once a difficult process, modern platforms allow companies to deploy and upgrade their payment stack quickly.
Be part of the future of payments, and get to know PayByBank's evolution.